D5 CNC ULTRA
"The Multitask"
The escomatic D5 CNC ULTRA is a new development based on the escomatic D2 CNC. In addition to the turning operations and based on the same principle well known by the users of the NM 64X, it is possible to machine the front and the back side of the part.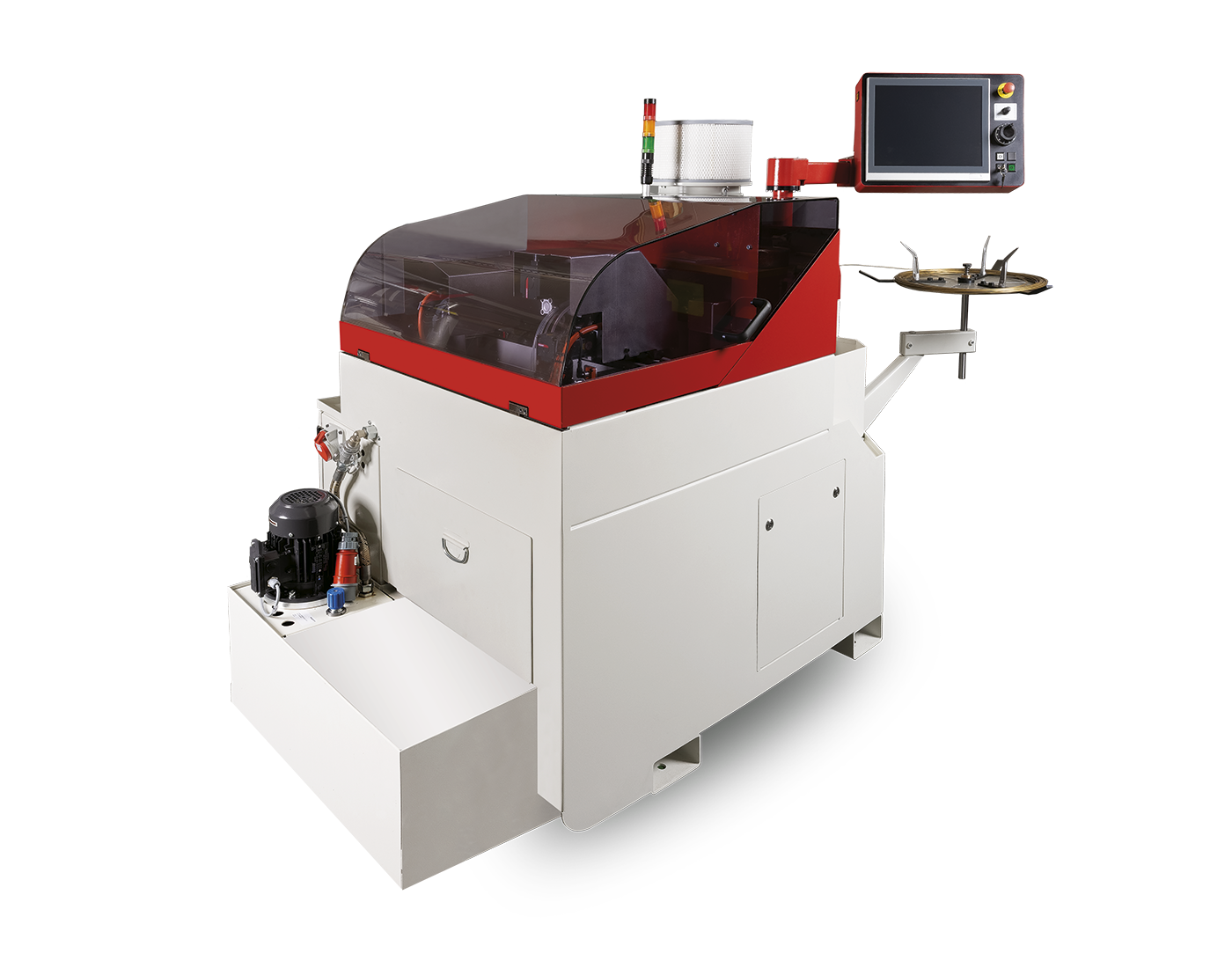 On the front side drilling, tapping and threading is possible with three axially positioned spindles. After the cut-off of the part the back side can be machined simultaneously to the front side spindles and/or the turning operation by means of two axially and one laterally positioned spindles. With a tool head speed of 12'000 min-1 and 18'000 min-1 for the front and back working spindles this new machine offers the turning performance of a D2 CNC with ultra-performing secondary machining operations.
The machine base is new and has been adapted to the space requirement of the new concept. The straightening unit, the material feed unit and the rotating tool head are absolutely identical with the D2. The counter collet and the system for the front machining with the three axially positioned spindles are mounted each on its own table with two CNC axes each.
For the back machining two axially and one laterally mounted spindles are available. Simultaneous machining of the back side during the turning process and/or the front machining is possible.
The tooling is the same as for the D2 CNC and except for the guide bush and the counter collet compatible with older cam driven escomatic D2 machines. The escomatic D5 CNC ULTRA is equipped with a FANUC 0i CNC control system, the programming is done in ISO codes.
Maximal numbers of operations in one machine
Stock material diameter 0.3 – 4 mm
Simple turned parts with front- and back side machining
Real 24 hours production from coil
Mass production as well sample manufacturing
Proven escomatic technology with FANUC 0i CNC control system
escomatic standard turning tools can be used
Tool head speed up to 12'000 RPM
Fast cycles and short machining times at enhanced precision
Best price / performance ratio for the production of parts with small diameters
Improved parts quality, both in meeting tolerances and in surface finish
Economy of floor space due to compact design of the unit "machine & coil stand"
Easy and simple set up and operation due to the absence of cams
Turning speeds, feed rates and cutting speeds are freely programmable
Turning without form tools